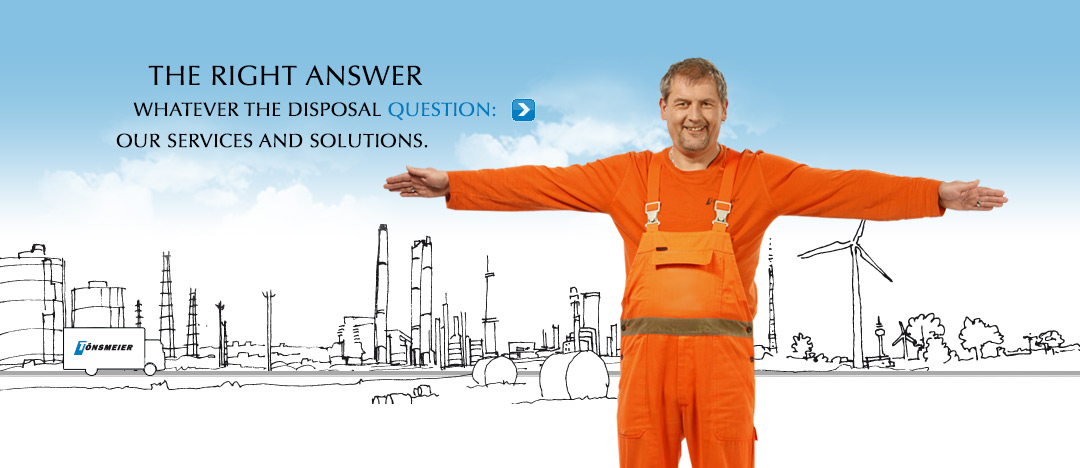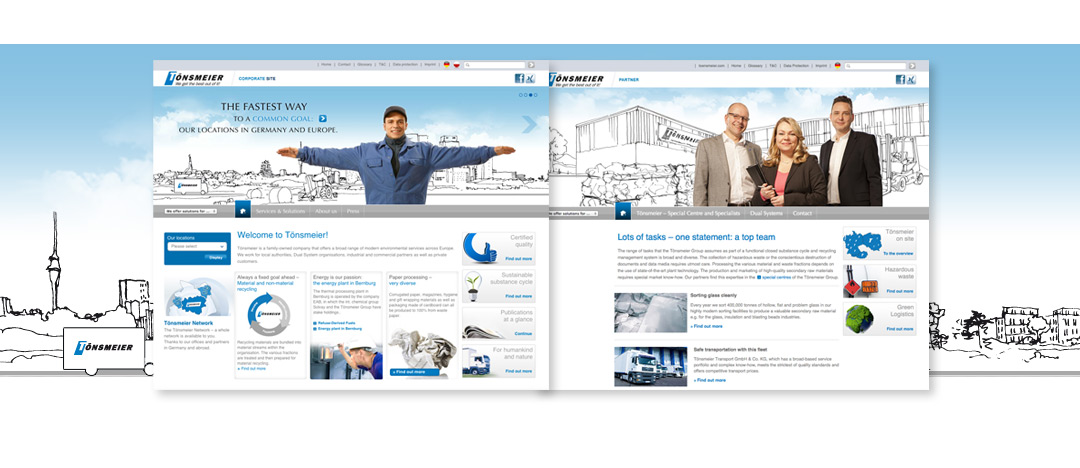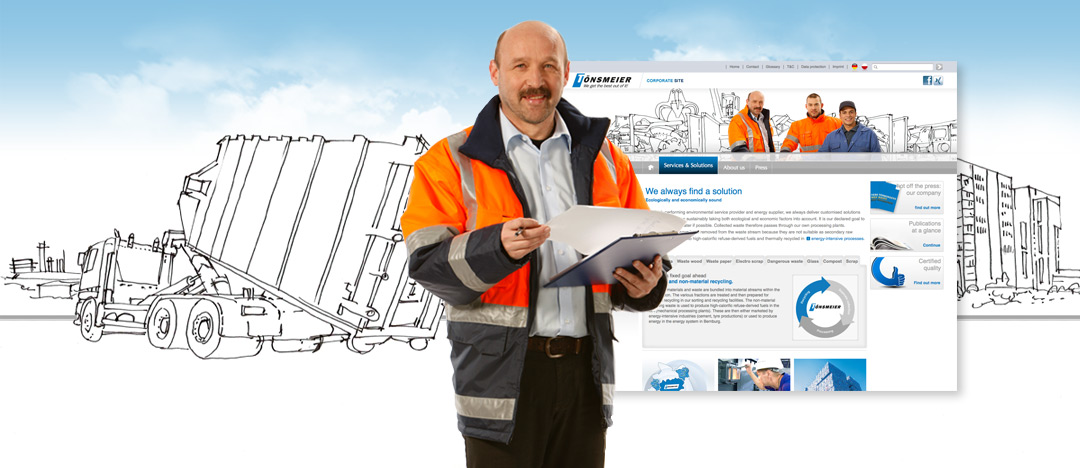 Tönsmeier / Corporate website
Website relaunch
Task
New concept and complete relaunch of the Tönsmeier internet presence. The company group's website is to be modernised in an extensive way, both in terms of design and technology. Core task is the development of a new visual concept that also leads the way to the redesign for all future cross-media communication activities. One goal is to reflect both the image and the portfolio of the Tönsmeier Group with target-group specific offerings and product presentations.
Solution
For the environment service provide Tönsmeier, a special information architecture was developed which, in a view of the client-oriented user guidance, divides the various offerings into five target-group specific areas. The navigation points and the content change according to the selection and provide the user instantly with all target-group relevant facts. On www.toensmeier.de, the user can find important general information about the range of services and the company, including press information and career opportunities. In the individually selectable areas, the topics commerce & industry, local authorities, private households, partners and job portal are covered. As a client oriented company, Tönsmeier places particular importance on its employees. That is why for the new Tönsmeier campaign a key visual was developed which focuses on the employees and their performance. The campaign motifs show employees from different departments of the company with their arms spread like an eagle. The fitting picture backgrounds were illustrated by .PEPPERZAK.. This gesture on the one hand refers to the shape of the letter "T", while on the other hand symbolising the attitude of the innovative environment service providers. At the photo shooting only real employees were present. Therefore, the motifs come across honest and authentic – just like the company itself. The visual subjects and picture worlds were first shown on the IFAT ENTSORGA, the world's leading trade fair for the management of water and waste in Munich.
Extras
The website's implementation is based on a new technological platform using the WCMS Typo3.
Brand website
Corporate Website
Illustration
Redesign
Category
Trade & Services

Technology
CMS TYPO3
CSS
Flash
HTML
jQuery

Services
Concept
Design
Development