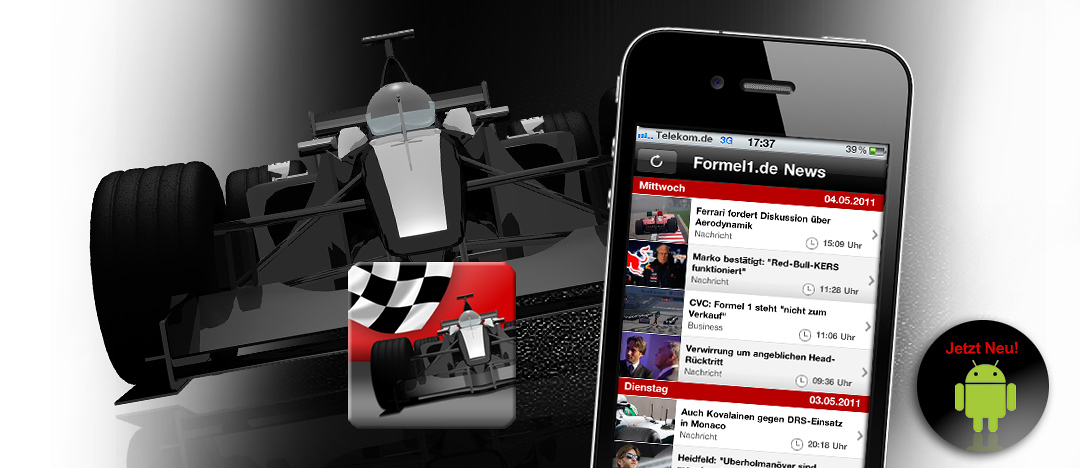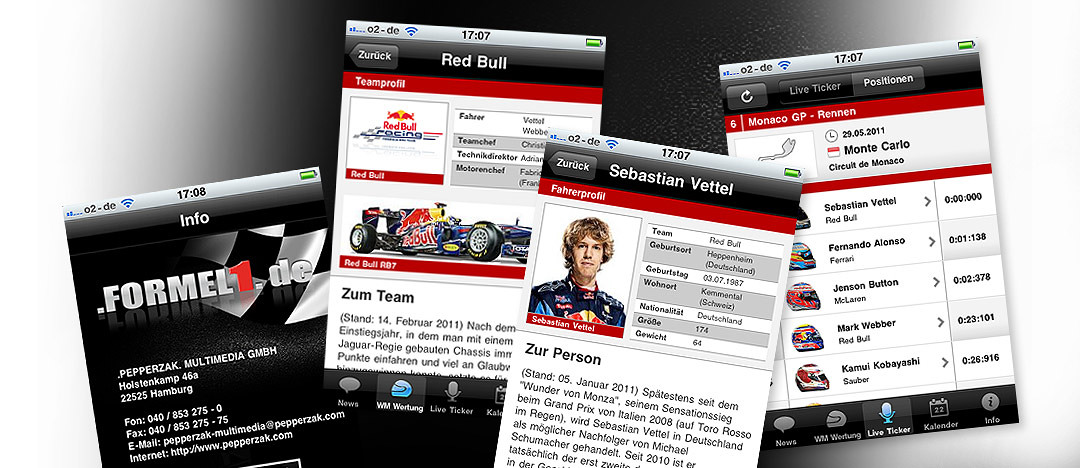 formel1.de / Mobile apps
App-Entwicklung
Task
Development of concept and implementation for a fast, functional app transporting the current content of the Formel1.de website attractively and in a leaner form. Apart from reading the news and getting information about drivers, racing stables and rankings, it should be possible to follow races via a constantly self-updating live-ticker.
Solution
At first, the content was limited and reduced up to a point where the format was ideal for smartphones. As the three most important topics, the news, WRC ranking and a live ticker were selected and neatly placed in the tab bar. If you follow the news symbol, the 15 latest entries are shown, which can also be viewed in detail. Moreover, the WRC ranking offers the possibility to call up profiles of the drivers and teams. Eventually, in the live ticker all qualifyings, races and even practice sessions can be followed in an exciting way. Its periodic content updates are putting the app in the pole position of sports apps again and again. In 2011 the app was also adapted for the Android system. Without any restrictions, because design, functions and content are identical with the iPhone version. Therefore, nobody has to do without the popular Formel1.de app any more – be it an iPhone or Android user.
Extras
The success and popularity of the iPhone app exceeded even the most favourable expectations just three days after its start. Because at that time, it was already in the Top 10 of the most frequently loaded apps in the "sports" category of the "iTunes App Store" – and all without prior advertising. Until August 2011 the Formel1.de app was downloaded more than 120,000 times from the iTunes store. And also the new Android version, which has been available since 22 August 2011 in the Android Market for free, had a great start with over 5,000 downloads at the first weekend.
App development
Technology
Hybride Web-App
Objective-C/Cocoa

Services
Concept
Design
Development